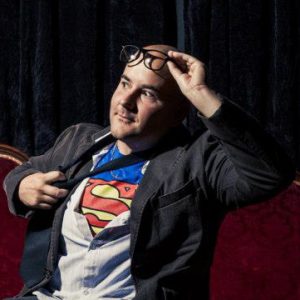 For English, scroll down
Hej!
Jag uppdaterar mig ständigt om nya design- och webbtrender. Jag har öga för detaljer, känner mig som hemma i Adobes programsvit och har ännu aldrig missat en deadline. Jag är positiv, lätt att ha att göra med, och är det något jag inte kan än är jag bra på att ta hjälp av min kompis Google.
Jag är en pigg 34-åring född, uppvuxen och boende i Vaxholm. Jag är grafisk formgivare av både digitalt, rörligt- och tryckt, statiskt material. De senaste åren har jag sysslat med alkoholrelaterad marknadsföring.
Jag fixar snyggt bildmaterial och korrekta texter till både webb och e-postutskick, och kan även sätta ihop samt skicka ut e-brev med flera tusen prenumeranter som målgrupp. Jag kan egenhändigt designa annonskampanjer, och även jobba som del i ett team.
Mina alster har haft alla möjliga format mellan visitkort och 20 meter långa banderoller.
Min fritid fyller jag med vänner, böcker, film och skärgården. Jag fotograferar mycket, och publicerar flitigt på Instagram. Jag har även funnits på Twitter och Facebook sedan deras tidiga år. För drygt 20 år sedan började jag spela paraishockey, och för tre år sedan svingade jag mitt första tennisracket.
Idrotten gav mig ledaregenskaper, en teamkänsla och en målmedvetenhet som tagit mig över hela världen, så långt som till VM och paralympiska spelen.
Under 2017 låg jag som bäst 143:a på rullstolstennisens världsranking, och i mars kom jag 7:a med parahockeylaget i paralympiska spelen i PyeongChang.
Jag ser fram emot att höra av dig inom kort!
Anders Wistrand
Hi there!
I keep up with the latest trends in design and web development. I have an eye for details, knows the Adobe Creative Suite like the back of my hand and have so far never missed a deadline.
I'm a (literal) team player, and if there's something I don't know yet, I possess a black belt in Google fu.
I'm a spry 35, born and raised around the islands of our fine archipelago. A designer of both digital, moving as well as printed, stationary/stationery material, the last few years I've mainly worked in alcohol-related marketing.
I've dabbled in everything from, making sure imagery and text maintain professional standards, to creating weekly email marketing campaigns with the target demographic in the thousands. I have single-handedly designed campaigns that outsold those from bigger agencies, but I have also been part of successful team efforts.
My work has taken all shapes and sizes, from business cards to 20 meter billboards
My spare time is somewhat evenly split between friends, exercise, books, movies and the usual island life. An avid photographer, I've been posting on Instagram for years. I've also been on Facebook and Twitter since their early years. I've been playing para ice hockey for more than 20 years now, and three years ago I swung my first tennis racket.
Sports gave me leadership skills, and made me a team player with the determination that has taken me all across the globe as far as to the world cup and the Paralympics.
During 2017 I reached a career high of 143rd on the world wheelchair tennis singles ranking, and I just came home from my second paralympic games where I reached a career high of 7th place in para ice hockey.
I look forward to hearing from you!
Anders Wistrand